• Curriculum Vitae (CV)
• Major web solutions
• Web design projects
• Software solutions




• C# (Microsoft .NET)
• JAVA
• Dynamic HTML
• PHP & MySQL
• ASP.NET - C# & VB.NET
• Perl & CGI
• C | C++
• Vector Markup Language
• SMIL
• Assembler
• Databases
• Wap Development
• Web site promotion
• Web Marketing





JobSite Professional 2.0 - powerful php and mysql product for running professional job websites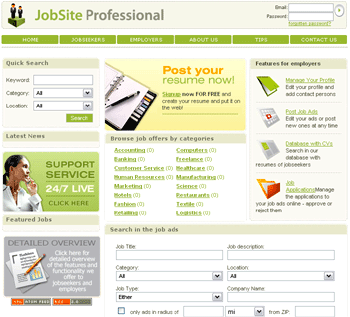 JobSite Professional is a web product (PHP & MySQL) for running powerful and customized professional job websites. It's template based, easy customizable and has a lot of features for the employers, jobseekers and administrators.

Please visit the Features page in order to find out more about the product features and the functionalities on the Jobseekers, Employers and Administrator pages.

You could find multiple demos with different templates on the Online Demos page.



Anton Zamov - One of the best European web developers with more than 4 years of professional experience in the development of web applications
Anton Zamov is one of the best European web developers. He is the author of a lot of high quality web products like e-commerce solutions, content management systems, complex bioinformatics solutions and many others.

View examples of the Anton Zamov's web development work

Anton Zamov - Professional web designer since '1999
Anton Zamov started to work like web designer since the summer of 1998. Since then he has designed more than 20 web sites for various organizations.
His design philosophy centers on creating websites that are:
· Revealing: The design concepts emphasize the character and essence of a business, translating these qualities into a company's web presence
· Distinct: He consistently produce unique designs that set our clients apart from their competition.
· Accessible: His design concepts are professional, fast loading, clutter free and user friendly.

View examples of the Anton Zamov's web design work



Jobs Portal, poweful jobs board software

PHP Mall, multi vendors mall website software

Car Portal, php script for auto classifieds websites

NetArt Media, software products and services

Real Estate Portal, web software for real estate portals

Blog System, multi user blog hosting script

PHP Store, powerful e-commerce system written in PHP